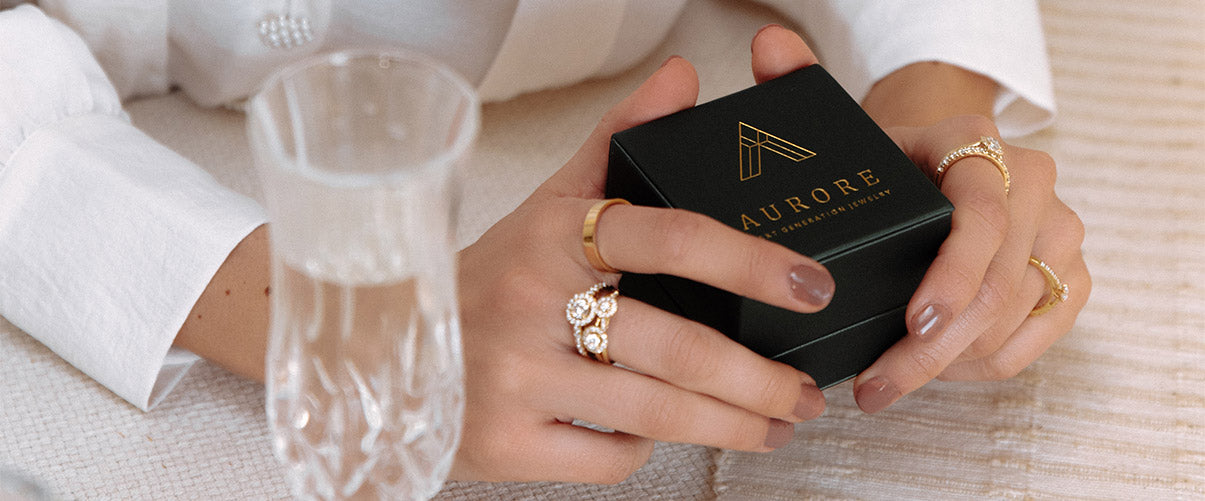 For the one you love
All Aurore jewelery is packed in a luxury gift box.
Exclusive lab grown diamond rings
Discover our special collection of luxurious rings set with lab-grown diamonds . We only work with sustainable materials for our collection of rings. A lab diamond ring therefore not only radiates from the outside, but has also come to life in a special way.
Why choose a lab-created diamond ring?
Are lab-grown diamonds really diamonds? The answer to this is simple: yes! Compare it to a plant. An orchid is an orchid, whether grown in the wild or grown in a greenhouse. The same is true with diamonds. Lab-grown diamonds are optically, chemically and physically similar to mined diamonds, yet at Aurore we consciously choose to work exclusively with lab-grown diamonds . Our motivation for this is the ability to avoid the environmental and (possibly) human toll that diamond mining entails. Diamond mines have a major impact on natural ecosystems thanks to the excavations. In addition, growing a lab diamond takes less energy than mining a natural diamond. Discover everything about the origin of lab-grown diamond.
Sustainable rings made from recycled gold
In addition to using ethical diamonds , we only work with 18 carat recycled gold in our workshop . Gold is a beautiful material that can be reused infinitely without compromising on quality or value. The gold is first returned to its pure form and therefore has the same quality and appearance as 'new' mined gold. As a result, no quality difference will occur in our gold rings and we can continue to guarantee our high quality requirements. By using these sustainable materials, we can make rings with a minimal impact on people and the environment.
Propose with a lab diamond ring
Proposing with one of our beautiful, durable rings? Quickly discover the collection of lab diamond engagement rings. We promise you she can't resist.