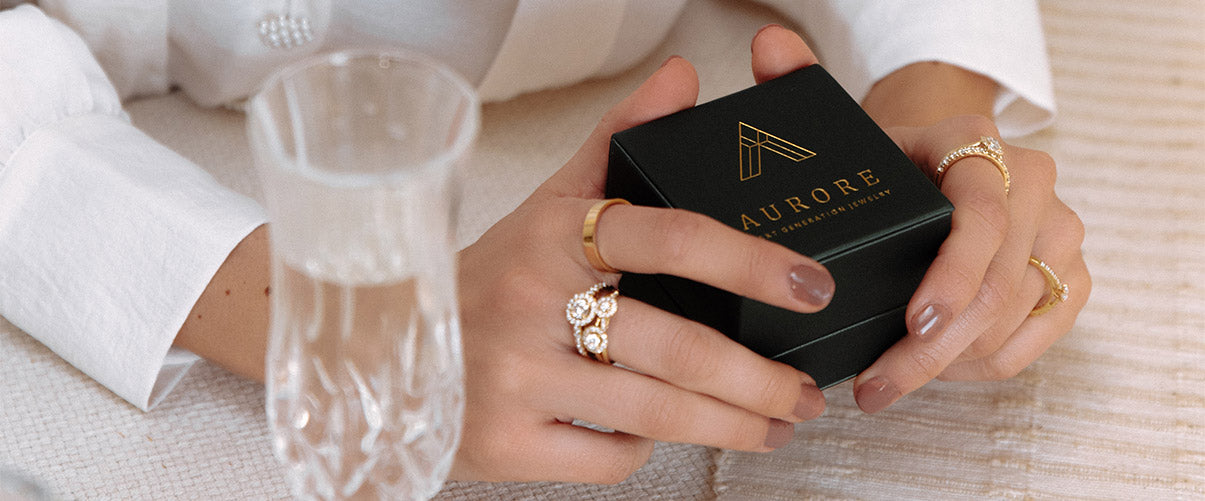 For the one you love
All Aurore jewelery is packed in a luxury gift box.
Lab-grown diamond necklaces
In the Aurore Jewelry collection you will find various necklaces with lab-grown diamonds. Necklaces that let the woman shine in a sustainable way. You can choose from necklaces with lab diamond in an entourage setting or stylish solitaire pendants. All necklaces are provided with a fine chain with an anchor link, made of 18 carat recycled gold. The real showpiece is of course the lab diamond pendant. The Emma collection has a diamond center stone surrounded by finer brilliant cut diamonds, this is also called a halo or entourage setting. Olivia shines in her elegance and simplicity. A single lab diamond (called solitaire) is the radiant center. Discover all about our ethical diamonds.
Sustainable necklaces
Looking for a sustainable necklace with lab-grown diamond? Then Aurora is the right place for you. With our ' Next generation ' jewelery we have taken a new path. As the first Dutch jewelery brand, we work exclusively with 18 carat recycled gold and lab-grown diamonds. In this way we create sustainable necklaces that radiate from the outside, but also from the inside. Sustainable and ethical jewelery with a timeless beauty.
Buy a diamond necklace?

Have you come across a beautiful diamond necklace in our collection? You can order these via our webshop, we are also available for appropriate advice . Would you rather try it on first and choose your diamond necklace with personal advice? We can wholeheartedly recommend our outlets . All jewelers with expertise and passion, they will provide you with excellent assistance in your search for the perfect Aurore necklace with lab diamond.